ELSA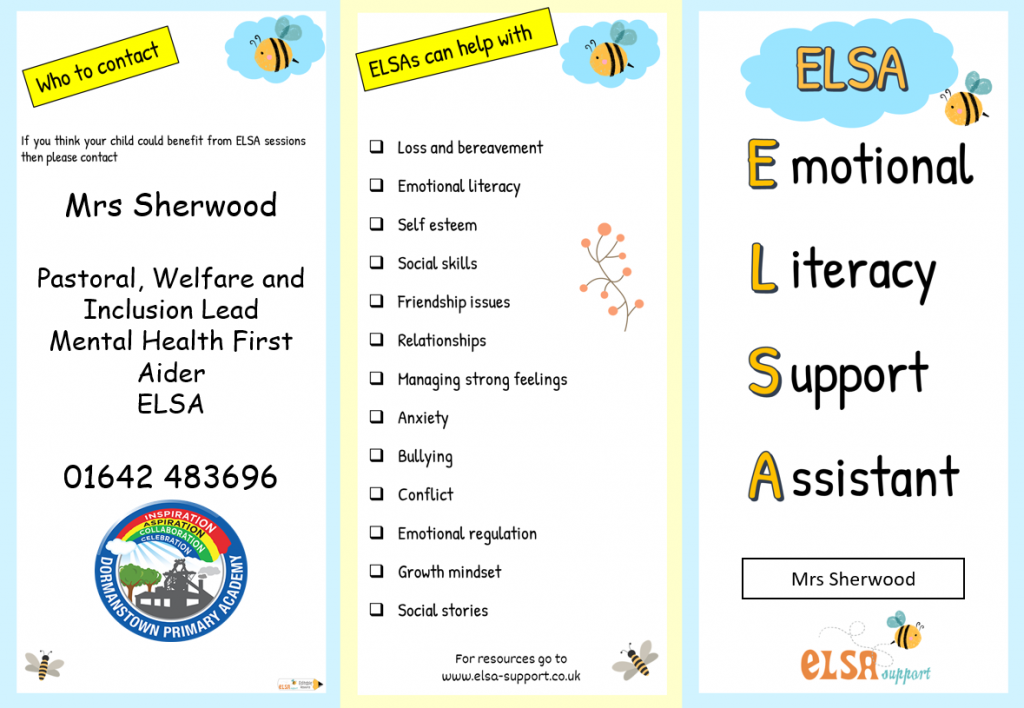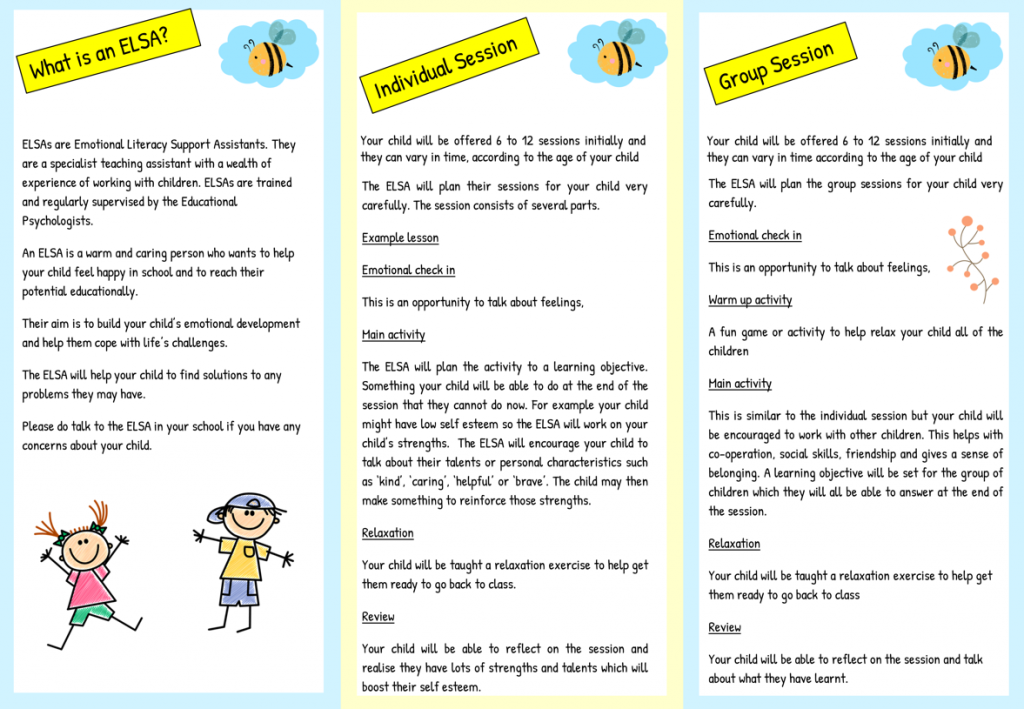 HeadStart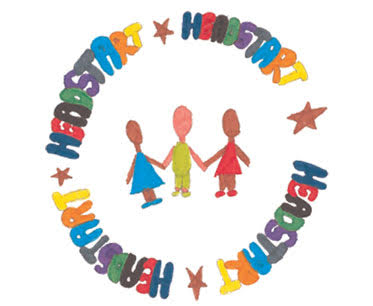 HeadStart was introduced in Middlesbrough in 2013 as a Big Lottery funded project. In April 2020, South Tees Clinical Commissioning Group allocated Future in Mind funding to introduce elements of HeadStart into Redcar and Cleveland schools and support the development and delivery of the resilience approach. This support was provided by a dedicated team and was delivered in two ways; direct delivery and by developing local networks to enhance relationships and access to services and support. HeadStart is a responsive programme; working on individual school priorities and using methods that complement current school approaches.
'Give all children and young people in South Tees the necessary support to build resilience to achieve good emotional health'
This ambitious programme was seeking to do this by:
Supporting children and young people aged 0-19 to cope better in difficult circumstances and do well in school and in life.
Building resilience in children and young people to prevent the onset of common mental health problems.
Learning from different approaches and contribute to an evidence base for investment in prevention and early intervention.
Developing an early intervention and prevention model to provide support in school, at home, in the community and virtually.
Developing a co-production model with children and their families.
HeadStart South Tees supports children and young people's emotional wellbeing in schools, at home, in the community and online. Working with partners, the aim of HeadStart is to improve resilience and provide support at an early stage to enable children and young people to cope better in difficult circumstances.
Sometimes life can be challenging and difficult sometimes. Everybody can feel like they are not coping and struggling. But things can get better.
Our emotions, our feelings and even our thoughts can be unpredictable and be influenced by everything that goes on in our lives.
Emotional health is about how we think and feel. It is about our sense of wellbeing, our ability to cope with life events and how we acknowledge our own emotions as well as those of others. It doesn't mean being happy all of the time.
Academic Resilience means students achieving good educational outcomes despite adversity. For schools, promoting it involves strategic planning and detailed practice involving the whole school community to help vulnerable young people do better than their circumstances might have predicted.
HeadStart helps in facilitating the system wide Academic Resilience Approach to enable and empower schools to use methods that complement current school approaches.
To build and improve emotional resilience is to:
• diminish the difference academically for the most disadvantaged young people
• improve attendance
• prevent mental health problems escalating
• support young children and their families to access appropriate help early
Here at Dormanstown, we share the same belief as HeadStart and believe that a whole school approach is the most meaningful and impactful way to build resilience in staff and pupils, including those that are most vulnerable. The HeadStart offer is a responsive programme; working on individual school priorities. The Mental Health Lead has liaised with HeadStarters during the Covid-19 pandemic to support us with:-
● Covid-19 Recovery Sessions
The HeadStarters pathway supported our Year 5 children in 2021. Initially this was virtually before moving to face-to face sessions. Topics covered were around issues arising from Covid-19, mental health awareness, self-care and how best to support themselves using the five ways to wellbeing.
Our Year 6 cohort in 2021, including children in our base classes, worked on the Smart Moves transition booklets to support transition to secondary. The transition resources aimed to improve the resilience of pupils as they embarked on to secondary education at Outwood Academy Redcar, Specialist schools and other feeder schools in the area.
● HeadStarters Champions
In January 2022, 6, Year 4 and 6 Year 5 children have been undertaking training to become HeadStarters- Emotional Health Champions. This training has been delivered face to face by Julie Wilson – Programme Assistant over 10 weeks in the spring term 2022
For more information please visit HeadStart website on http://headstartsouthtees.co.uk/
Trust Counsellor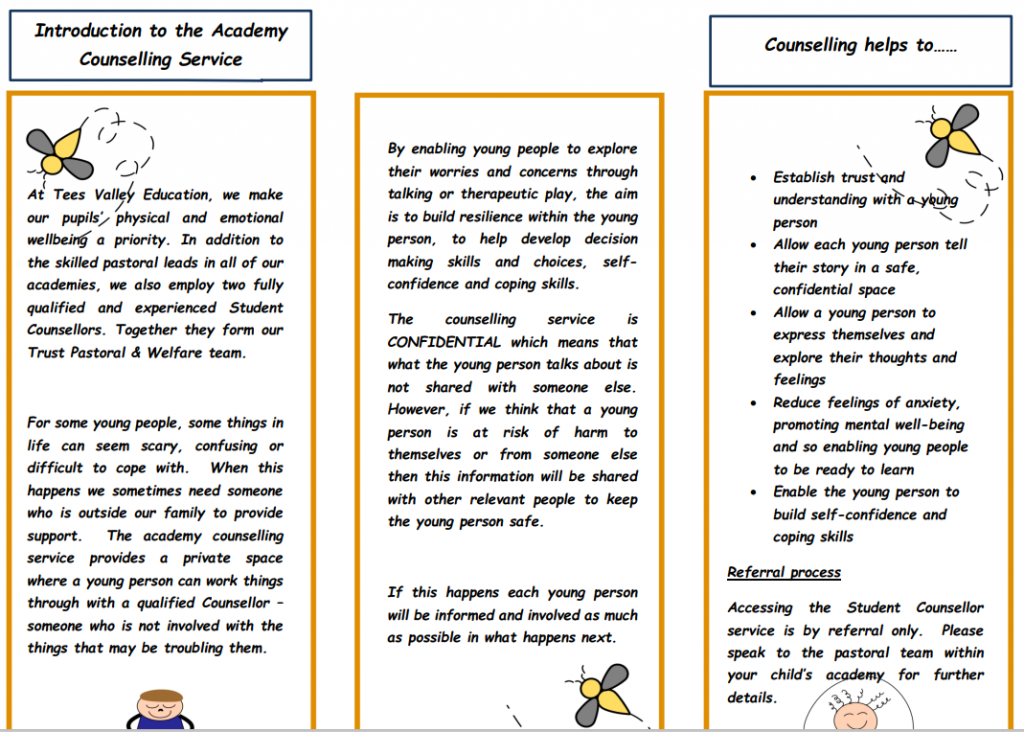 Young Minds
Follow the link below to read about Yound Minds, a mental health charity for children & young people.