Year 3
At Tees Valley Education, we view our broad and balanced curriculum as the totality of every planned experience and interaction that our children will encounter. It saturates and informs every aspect of our practice and our culture: from academic content, to safeguarding, to poverty proofing, to the planned roles and recruitment of adults working in our academies.
We build the supporting frameworks around the children, which we hope will allow them to develop the characteristics that ensure they are ready to learn, allowing them to become independent, confident and successful learners, preparing them well for future life and to feed the demands of an increasingly complex workplace and society.
Summer 2020/21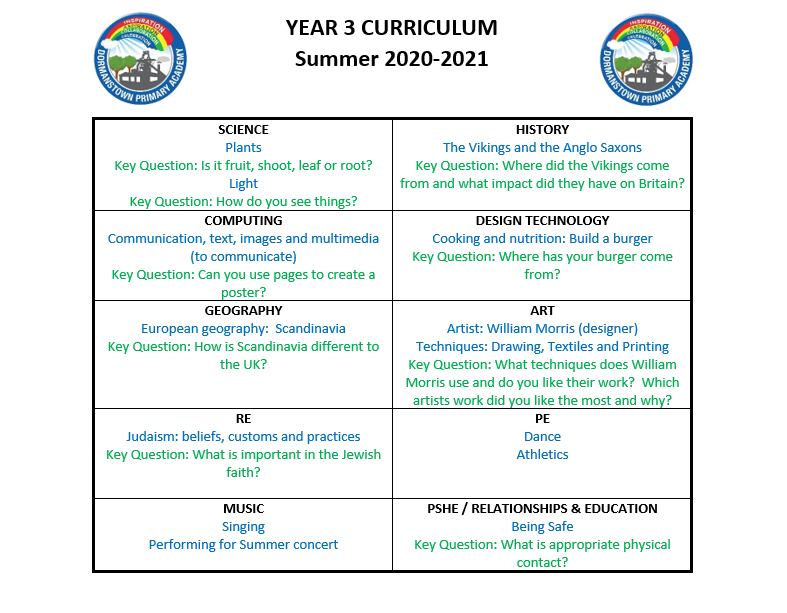 Autumn Learning 2020…
This term, Year Three's curriculum focus is:
History: our history focus is 'Stone Age'. We will be learning all about how the very first people on earth lived during this time such as the houses they lived in, how they survived and sites they made such as Stonehenge and Skara Brae.
Design Technology: this will be linked to our Stone Age work in history, and we will be making clay pots.
Geography: we will be learning about the UK and the four countries
Art: We will be learning all about the artist 'Lowery'.
Science: We will be investigating rocks as well as learning how to keep healthy.
RE – Light in different religions
ICT – Using our class IPads to 'code'.