Year 2
At Tees Valley Education, we view our broad and balanced curriculum as the totality of every planned experience and interaction that our children will encounter. It saturates and informs every aspect of our practice and our culture: from academic content, to safeguarding, to poverty proofing, to the planned roles and recruitment of adults working in our academies.
We build the supporting frameworks around the children, which we hope will allow them to develop the characteristics that ensure they are ready to learn, allowing them to become independent, confident and successful learners, preparing them well for future life and to feed the demands of an increasingly complex workplace and society.
Summer 2020/21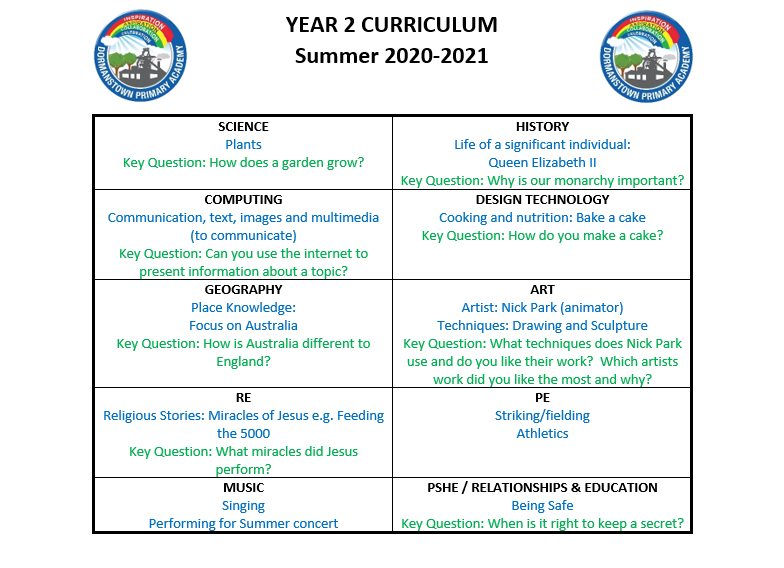 Year 2 have had a busy start to the Summer Term. In Science, we have looked at what makes a garden grow. We investigated what makes flowers grow, and even grew our own broad beans. In Art, we looked at the artist Nick Park, and sculptured our very own characters using his skills and techniques. 
Autumn Learning 2020…
During the autumn term Year 2 will be learning about and engaging in a range of activities throughout the curriculum. In Geography, we will be learning about the local area, the United Kingdom and the surrounding seas. In History, we will look into the past and what happened in London over 350 years ago during the time of the Great Fire of London. In Art, we will be studying the artist Friedensreich Hundertwasser, Science we will be looking at materials and their properties and also animals including humans and finally in DT we will be investigating and making a drawbridge open and close.