Year 1
At Tees Valley Education, we view our broad and balanced curriculum as the totality of every planned experience and interaction that our children will encounter. It saturates and informs every aspect of our practice and our culture: from academic content, to safeguarding, to poverty proofing, to the planned roles and recruitment of adults working in our academies.
We build the supporting frameworks around the children, which we hope will allow them to develop the characteristics that ensure they are ready to learn, allowing them to become independent, confident and successful learners, preparing them well for future life and to feed the demands of an increasingly complex workplace and society.
Summer 2020/21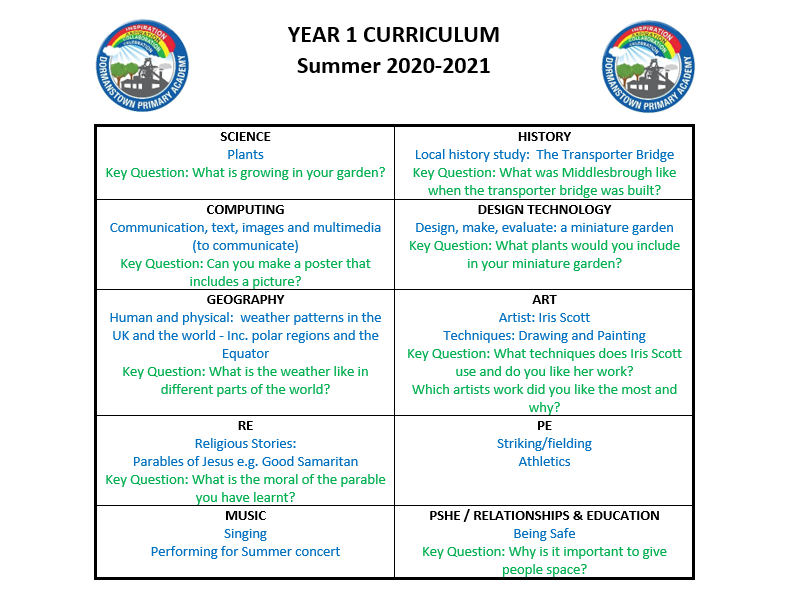 1T had a fantastic day dressing up as Edwardians! They have been learning all about the Edwardian period of British history. Take a look at what we have been doing.
Autumn learning 2020…
During this term, Year 1 will be immersed into a broad range of subjects. In Science, we will be learning all about seasonal change. We are looking forward to observing the changes as we head into Autumn. In Geography and History, we will be looking at Dormanstown and Redcar, studying and making maps and talking about what it was like in our area a long time ago. In Art, Angie Lewin is the artist we will be researching, and her techniques we will create our own artwork. We will also be enhancing our cooking skills in Design Technology. As part of our computing curriculum, we will be developing our coding skills, as we learn how to create an algorithm and programme the Beebots.
A significant part of our curriculum this term is our PSHE work. We are learning all about friendship, and how to be a good friend. We are introducing the children to the term respect and how we can show respect.
Year 1 have been looking at Nutrition and food hygiene over the course of the week. They were able to try three soups and then decided which one was their favourite.
Soup making – children worked in pairs and washed the vegetables. Once the vegetables were clean they each had a go of pealing them. After that, the children chopped the carrots and potatoes into small pieces. This was then added to the slow cooker. After a few hours, the children had the opportunity to taste the soup that they had made.