Year 4
At Tees Valley Education, we view our broad and balanced curriculum as the totality of every planned experience and interaction that our children will encounter. It saturates and informs every aspect of our practice and our culture: from academic content, to safeguarding, to poverty proofing, to the planned roles and recruitment of adults working in our academies.
We build the supporting frameworks around the children, which we hope will allow them to develop the characteristics that ensure they are ready to learn, allowing them to become independent, confident and successful learners, preparing them well for future life and to feed the demands of an increasingly complex workplace and society.
Summer 2020/21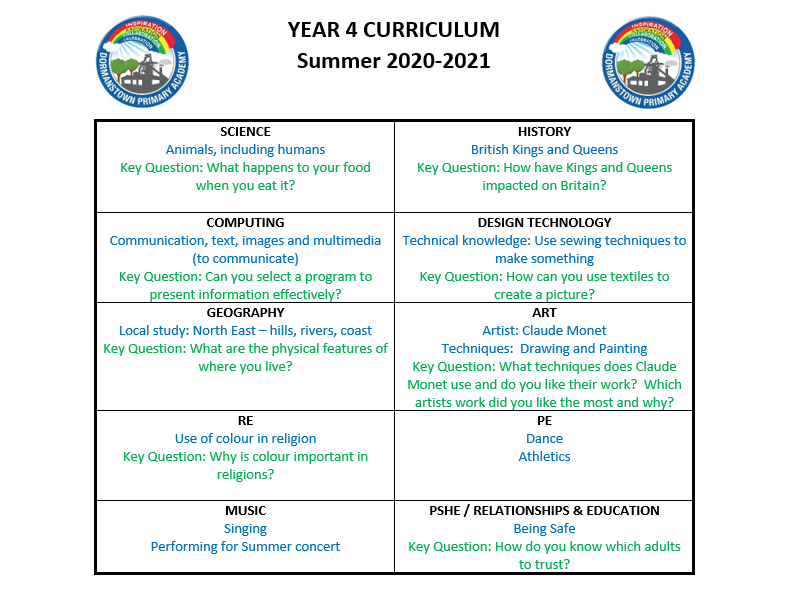 Wow, what a busy half term Year 4 have had! They have made some excellent progress and are working outstandingly well in all subjects. We enjoyed learning about our local area- finding out about physical and human features of the region. In art, we created some gorgeous artwork in the style of Monet.
Our current History topic is How Kings and Queens have made an impact on Britain. We are going to study William the Conqueror, King John, Queen Victoria and many more. 
Autumn Learning 2020…
This Autumn term, 4S are going to be learning all about Italy, using atlases to locate Italy and the bordering countries. We are then going to compare Italy to the UK. We are looking forward to making a healthy pizza towards the end of the term. This will then lead us onto our History topic which is 'What did the Romans do for us?' We are going to be exploring the Romans, looking at their inventions, famous landmarks, famous Roman Emperors and Boudicca.
We have just finished our Art project. We were asked by Miss Anderson to create some self-portraits. First, we drew one with no help at all and from this we looked at all the skills and techniques that we would need to help draw a portrait. We are now very confident with using different shading pencils and line techniques, especially cross hatching.
4S Covid Isolation letter 08.11.2020