Another great week in the academy with children engaged in their learning and producing some very positive outcomes. We did unfortunately have to close a bubble this week, so we are supporting our Year 3 children to work remotely again.
Thank You!
We want to say a huge thank you to the Ladies of Steel who provided every child in the academy with a hygiene pack funded and organised by themselves. This was such relevant gesture with the focus on hygiene during the pandemic and allowed all the classes to engage in sessions on the importance of keeping clean and looking after your teeth. Another level of support much appreciated by the academy, families and the community.
HeadStart
As part of our involvement in the HeadStart programme to give all children the necessary support to build resilience to achieve good emotional health, the Y5 children began their HeadStarters programme This was one of ten virtual sessions focused around their own wellbeing and aiming to increase their confidence and self-esteem.

TVEd Pupil Therapy and Wellbeing Offer
At TVEd, we offer a full range of support for Pupil Therapy and Wellbeing. The poster details the various therapies we offer to our children and the stakeholders we work with in order to achieve this. Please get in touch with the Pastoral Team if you require any further information.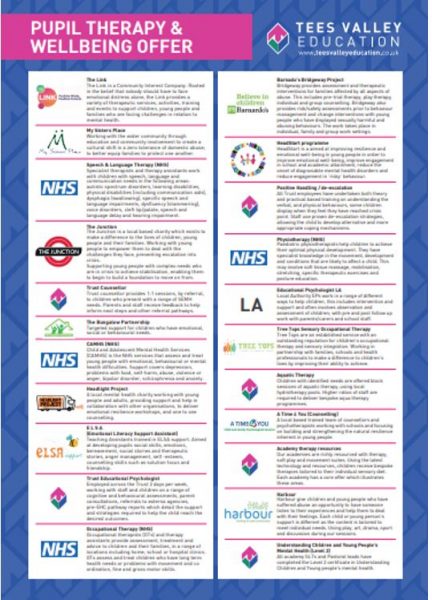 Times Tables Rockstars…
Year 6 – Reece and James
Year 5 – Kayden and Max
Year 4 – Reiley and Kenton
Year 3 – Declan and Leo
B2H – Mohamad and Warren
B3A – Heidi and Alfie
Spelling Shed Leader Board…
Please continue to stay safe and look after each other.