Hello to Everyone in our Academy Community,
We hope that you are all safe and well and have had time in your gardens enjoying this lovely weather. What an amazing response we have had from our new Home Learning activities. Your teachers have really enjoyed reading all the letters they have received and your imaginative ideas for the A to Z plates have really impressed us all. Well done to everyone who has taken part and shared your work with us.
Watch out for next week's activities that will be published on Monday via our Facebook page with links to where they are located on the year group page on the website. If anyone has any difficulty locating these, please contact the academy. There will be another academy challenge for everyone to try!
Also, don't forget daily reading and regularly logging into Spelling Shed and Times Tables Rockstars.
BBC Bitesize…
You may have seen BBC Bitesize now release 3 new lessons for every year group each week day during lockdown. For those who would like some more activities to do they can access the whole week of lessons using the link below. Choose your child's year group and try some fantastic learning activities. Every Friday there are fun maths challenges and there are also useful wellbeing lessons.
https://www.bbc.co.uk/bitesize
Weekend Packed Lunches…
We have had a great response to the offer of weekend packed lunches from The Ladies of Steel 'Helping Hands Campaign'. This is really generous local support and shows true community spirit during this time. The lunches will be delivered during Saturday and Sunday over the next two weekends by members of the group and the academy. We want to say a HUGE THANK YOU to everyone involved.
Food Vouchers…
For parents who are eligible, your government food vouchers should also be coming through now.  If anyone is still having any issues, please contact the academy.
Please click here to access guidance on free school meal vouchers
If anyone is struggling to purchase or obtain any household or food essentials, please phone the pastoral team, as we have contacts who may be ble to help.
Times Tables Rockstars
Well done to everyone who has been practising their times tables on the Rockstars programme. On the leader board for speed this week are:
Leon K (6N)
Max T (4/5C)
Leon B (6N)
Nathaniel (6N)
Josie K (4/5C)
The children with the most coins per year group are
Year 2 –Connor
Year 3 – Reiley
Year 4 – Max
Year 5 – Shilo
Year 6 – Leon K
A few new children have got onto the most coins leader board; keep up the practice and the competition next week.
Spelling Shed
Well done to everyone who has been on Spelling Shed this week. We want to try to get into the World League and, to do this, we need everyone to play around 200 games per class in the week. It would be great to get into this top league!
Well done to Paige, Gypsy and Olly for dominating the tables. Let's see if we can get some KS2 children into the top spots next week. Good to see 6N in the class league now.
We know a few children have had trouble logging onto Spelling Shed on their home devices. Mr Stammers has been in touch with Spelling Shed and any issues should be sorted now. Try logging on again and it should work!
NSPCC Links…
There are further articles on the NSPCC website around
How to support children at home during this challenging time
Worries that children may have and have shared with Childline around Coronavirus
Support for parents around how to keep children safe online
Keeping Children safe
please click here for further details.
More Online Safety Support…
Further online safety support can be found from the Association of Adult and Child Online Safety Specialists:
Further age related online safety resources have been updated by CEOP:
https://www.thinkuknow.co.uk/parents/Support-tools/home-activity-worksheets/
Daisy Chain Telephone Support Service…
Daisy Chain have a new telephone service available to offer support for young people, families and adults with ASD, ADHD and sensory differences. They have been providing a variety of support from advocating for adults, creating personalised packages of support including visuals and social stories for families, well-being check ins and supporting parents/carers to understand and manage their child's needs.
Further details can be found from this short video: https://www.youtube.com/watch?v=1SPkPCyW4kw&feature=youtu.be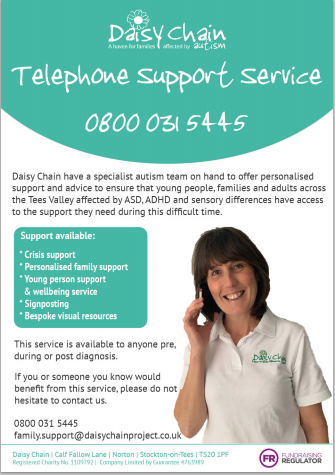 Support for Year 6 children…
We were due to have a talk from a representative from Kooth this week for our Year 6 children to let them know about this free online counselling and support service for children 11 years and older. This was particularly to focus on preparing them for transition to secondary school and the lead up to SATs. This is a service that families can sign up to if their children require health and wellbeing support and is particularly relevant at the moment.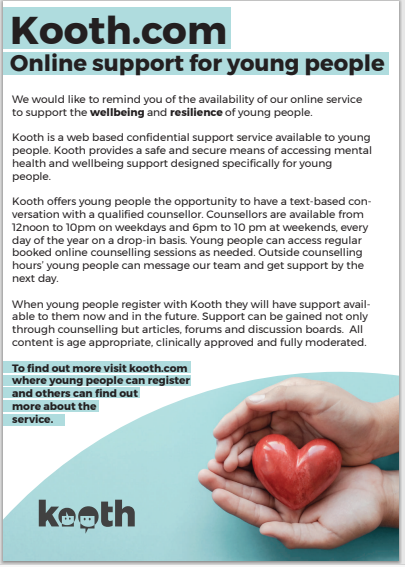 http://dormanstown.teesvalleyeducation.co.uk/wp-content/uploads/2020/04/Kooth-Letter-to-Parents-April-2020-Tees-Valley.pdf
http://dormanstown.teesvalleyeducation.co.uk/wp-content/uploads/2020/04/Kooth-Online-portal-statement-Tees-Valley.pdf
http://dormanstown.teesvalleyeducation.co.uk/wp-content/uploads/2020/04/NEW-kooth-sign-up-neutral-2.pdf
Please contact the academy if you require any more details about this service.
We hope that you all have a lovely weekend and everyone stays safe. If you haven't already done so, please view Mr Long's first Virtual Celebration Assembly on Facebook. It is a real recognition of everything that you have been doing at home and there is some great dancing to see too.
We look forward to keeping in touch through our Facebook page, this website and through our Marvellous Me messages (don't forget to Hi5 the messages). Thank you.